Being a mom, juggling work, and writing blogs for my Social Media for Business Performance course, keeps me very busy.  My biggest challenge these days is finding time to go to a grocery store… or two… or three, just to pick up things I need for this week's meals. Thank goodness for price matching! Time, is one of our most precious commodities yet every day we struggle with having less of it and craving more. So much so that we often succumb to paying a hefty price for it. It has revolutionized the way people buy groceries, giving busy professionals, parents, elderly, student's and even businesses back valuable time they don't have to spend shopping.
The increased demand for this type of service has resulted in a large number of companies entering this online space.  With competition being so fierce three factors will influence which business will rise to the top:  Innovation, Speed of Delivery and Efficiency in their Supply Chain. The application of social media in the supply chain process is no longer an option but rather a requisite in order for a company to accelerate and propel ahead of the pack.
"Using modern technologies, such as social media, can improve an organization's supply chain management. It can create more visibility, improve communication, increase control, and reduce operational and labor costs. When you have a more efficient and stable supply chain, you can enhance your customer satisfaction. The ripple effect of using social media to improve your supply chain management can expand outwardly across virtually your entire organization, which is great for business."[1]
Instacart is a trailblazer in the on-demand market space. The company has revamped the landscape of the online grocery sector, promising a one hour delivery.  They tackle the grocery problem with a fresh perspective. …can you say personal shopper anyone?  A dedicated person who will deliver groceries from your favorite stores exactly when you need them so you don't have to.
About Instacart:
An av
ant garde Internet-based grocery delivery service  has been revered by Forbes as "America's Top 20 Of 2015 Most Promising Companies." [2] From the aspiring mind of University of Waterloo Alumni, Forbes top 40 under 40 achiever, former Amazon supply-chain engineer and serial entrepreneur, Apoorva Mehta came the rise of Instacart in 2012.
Traditional methods of ordering groceries online meant that a you would have to place an order hours, or days in advance.  You could only select from preset delivery times that were available or undesirable.  Plus you were limited to ordering from a catalogue of items from overstocked inventories or from just a singular grocer.
Mehta, recognized the need to improve this prehistoric delivery model. Disliking the idea of grocery shopping, he decided to develop an app that would do it for him.  From using his app he saw the need to solve a common problem. Engaging his friends, they all started using the app and the idea caught on like wildfire. Now, the only challenge was to draw in investors.   Being able to provide consumers with choices; flexibility, speed of delivery and that oh so desired personal touch, was there ever a doubt that Instacart could land a whopping $220 million investment.[3]
Vishwa Chandra VP of Instacart, was asked recently how has online grocery delivery changed in recent years?
"The offering is no longer just about convenience. It's also about value, choice and access. You must meet multiple consumer need states. There are high customer expectations, so you must deliver efficiently. It's hard to develop a customer but very easy to lose one." [4]
Check out, pardon the pun, Apoorva Mehta's talk at Start-up School NY 2014. He explains his journey to becoming a founder of a startup and the his inspiration for Instacart.
"Instacart's smart use of technology has enabled it to soar in a category that's been plagued by infrastructure issues for many years –- they have a completely new way of enabling retail delivery," – says, Jeff Jordan, Instacart board member [5]
Supply chain at its finest. Instacart has no physical infrastructure.  They do not own warehouses, nor do they have a fleet of trucks or lease any vehicles. Plus they don't need of any inventory. And they are in the grocery delivery business. How's that possible?
Through the use of their sophisticated software and leveraging mobile based crowdsourcing. What's that you say?  Anyone with a smartphone can download an app and become your very own personal shopper.
A Personal Shopper –  an independent contractor or a full time employee signs up and becomes part of their network.   They are provided with an app that sends them customers shopping list, exact coordination of getting to various stores externally and every detailed instructions on the inside the store e.g. which isles to find item.
This app also allows them to be in constant communication with the customer advising them of their arrival or any issues with items ordered.  What's remarkable about the Instacart experience is the human factor. An actual personal who shops just for you, your food isn't coming out of a warehouse and being put in a box and dropped on your doorstep.
Another ingredient of Instacart's  success is providing customers choices. They choose big box brands (Whole Foods Market, Costco, Petco),  and even trendy niche stores like (Fairway Market, Bi-Rite, Plum Market).  Most recently Instacart partnered with Target, this merger allowed both companies to go head to head with new comer Google Express and Amazon Fresh.
Imagine this, your friend just called and said the gangs coming over for dinner at six. Wow you look at the clock it's now three. You're stuck under a crap load of work.  You picture your fridge – there's a bottle of mayo and a jar of pickles. What to do …what to do? Well, have no fear Instacart app is here. Simply click from your mobile device or in your case your work PC.  Presto your very own fully trained personal shopper will pick up those ingredients to make your party rock!  All this in the nick of time and not to mention from your favorite stores to boot.  How can you beat that.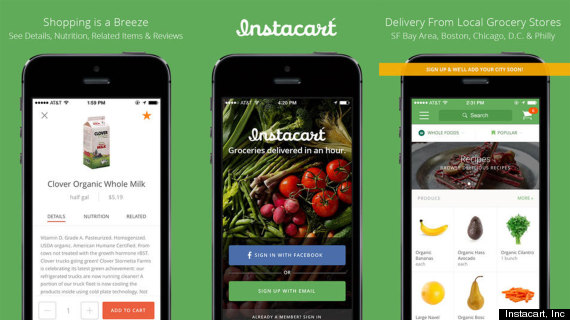 Instacart believes that communication is vital. The latest version 4.12 of their app is smarter and more efficient. It  now incorporates email and texting.
Here are some entertaining customer reviews:
One of my new favorite apps! – This app was a heaven sent. I wanted to surprise a friend of mine in a different state and this app made it happen. It gave amazing options, very quick and easy to use, always attentive to let you know where you are in the process (shopping, delivered, etc). The personal shopper was great to ask questions or alternative options in case what I had ordered was out of stock. The shopper was amazingly punctual and made it a really wonderful experience for me and my friend. I love this app and will definitely use it as a main resource. –  by Lookylou2

I Want to Marry This App – Speaking as a single, full time working mother of two young kids (one of whom is in bed by 7), this service has been a life saver. And a sanity saver. I chose to pay the one time annual delivery fee of $99, so there are no delivery fees tacked on to the individual deliveries. It pays for itself if you use the service regularly, which I do — at least once a week. If you're not in need of regular grocery delivery, it's still a great option if you're sick, injured, superglued to your couch, what have you. Love it.- by sloanemurray [6]
Another nice feature of the app is that it allows a customer to choose substitutions for all items in case they were out of stock. There is also an option to have the personal shopper call to confirm any replacement purchases.  Another vantage point is that the app sends a survey after each delivery. This timely feedback is critical as it provides Instacart the ability to assess their service and see how the personal shopper preformed.
All of this interaction is backed by a strong Fulfillment engine and is the driving force of Instacart. And who better to describe this incredible piece of sophistication but their very own design team :
"At its core, Instacart is a real-time logistics platform. We are in the business of moving goods from A (a store) to B (your front door) as efficiently and predictably as we can. At any given time, for every market we operate in, we can have thousands of customers expecting delivery in the coming hours. We also can have thousands of shoppers actively working or waiting to be dispatched through our mobile shopper application. Our fulfillment algorithm decides in real time how to route those shoppers to store locations to pick groceries and deliver them to customers' door-steps in as little as one hour. We re-compute this optimization every minute, because the world is constantly changing. We have to balance speed (some shoppers shop faster, some stores are less busy) with efficiency (can we deliver multiple orders simultaneously) with quality (does the customer get the exact groceries they want) and timeliness (is the order delivered within the hour it is due – no earlier, no later)." [7]
Now that's what I call efficiency at its best!
Being keen on what's shaking in my backyard I tried reaching out to Apoorva Metha for further comment.  I still waiting to to hear back to find out why he didn't expand north across the border?
Luckily, I came across this interesting article from Canadian Grocer "How a wave of delivery startups are remaking grocery shopping" it speaks to how US leaders like Instacart will face homegrown competition in Canada
Here are a few on demand grocery business that have sprouted in Toronto just in the last year:
Urbery
Instabuggy
Freshrush 
Lessons for Others
To improve your business and see where a change may be necessary due to supplier or customer needs you must get constant and timely feedback.
To remain competitive you should be innovative, whether it be the way you deliver your service, the speed in which you do, or the technology you use to get you there.
Remembering who your customers are and feeling their need for your service by adding a personal touch can make the difference whether they chose you or the lower priced option out there.
The use of Mobile Crowdsourcing and software driven implementation makes it easy for a company to expand to new cities extremely quickly as there is no overhead, low fixed cost, and limited capital expenditure.  To illustrate, David Schloss, General Manager at Instacart, in the interview below provides insights on his quick expansion in the city of Boston.
Organization: Instacart
Industry: Online Grocery Retail
Name of Organization Contact: Apoorva Mehta , CEO and Founder

Authored by: Shel
If you have concerns as to the accuracy of anything posted on this site, please send your concerns to Peter Carr, Program Director, Social Media for Business Performance.
---
References