Are people really honest? One company decided to find out and in the process they managed to create one of the best social media campaigns in 2015.[1]  Honest Tea,  has prided themselves to be transparent in all their endeavors, and are now inspiring a nation to do the same. Challenging American's  to prove they are honest people, and in the process managing to conquering their own brand awareness like never before.
The Social Experiment
Since 2010, Honest Tea has conducted a social experiment where they set up unmanned racks of Honest Tea offered for $1 each on an honor system. Monitored by hidden cameras and employees who tracked the percentage of people who paid by city. It started with 6 major cities across the U.S. to determine how honest people are when they think no one is watching. And has expanded across the nation ever since proving each year that over 90% of Americans are honest and continue to be.
Please take a peak at the Teaser video below for more on the Honest Tea's Campaign
To see which states were the most honest and  other interesting results, quench your curiosity by clicking on the National Honesty Index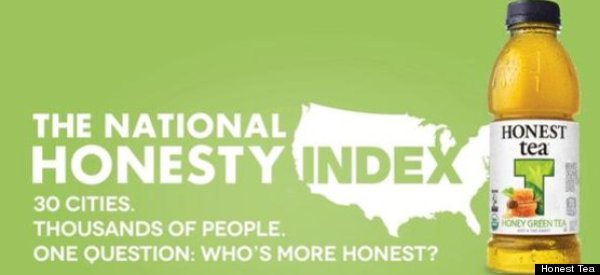 So why did they conduct this experiment?
Seth Goldman is president and TeaEO of Honest Tea explains:
"Beyond the fact that we seek to have honest and direct relationships with our ingredients, suppliers, and consumers, it's a fun way for people to interact with our brand. We do lots of sampling over the summer, but our Honest pop-up stores offer an opportunity for people to be part of our company rather than just passive drinkers. It turns out that it's also a nice way to help people think differently about our society and each other."[2]
Each year Honest Tea matched the contributions from these pop-up stores and donates them all to a specific charity in order to help people help themselves and increase sustainability in the world.
This was definitely a marvelous campaign yielding some outstanding metrics and significantly boosted Company's overall presence.  [3]
280 million total impressions
$2.79 Million in earned media
Not to mention Honest Tea experienced double digit growth in each market
160 press stories
Now that's impressive!  But their momentum continued in the next phase of their campaign adding one more of twist. After several years of successfully conducting physical honesty experiments across the country, Honest Tea hired Carrot.IS and Influential to revamp the campaign to add social components. [4]
The result a hybrid:
Social experiment
+
Facebook application
"The Honest Tea Pact"
+
#RefreshinglyHonest campaign
EQUALS
Nomination for Shorty Award
Okay let me steep down this equation for you:
First they conducted the Social Experiment component Honest Tea activated 27 pop-up stores in major U.S. cities. The results were released in August of 2015. Revealing the most and least honest cities in the country, along with the honesty of people based on their demographics like hair color and gender. It's clear that people around the country are honest when given a choice to pay or steal, but Honest Tea wanted to find out how this would carry over to social media?
Next they devised a two-part strategy, combining the honesty experiment and testing the honesty of Social media users.
"The Honest Tea Pact," the Facebook application was designed to collect information about the online experiment.   After authenticating via Facebook, users agreed to share a piece of content in exchange for an Honest Tea coupon. Honesty was then measured by whether the user actually completed the share in exchange. (Users received a coupon regardless of whether they shared a coupon or clicked 'cancel'). The data was then analyzed and correlated between Facebook and the social experiment this was updated on Honest Tea's National Honesty Index microsite
The Results
The Facebook app received over 20,000 authentications in a 24 hour period, resulting in over 18,000 coupon downloads and millions of data points to sift through and correlate with honesty. [5]
Pairing  Facebook  with Twitter, Instagram, YouTube and Blogs they then called upon followers to be #RefreshinglyHonest and post about the "unfiltered, imperfect" moments in their lives.
In the clip below Seth Goldman TeaEO  candidly reaches out to followers, and genuinely shares his honestly refreshing moment.
Honest Tea uploaded their own posts with the #RefreshinglyHonest hashtag on Instagram and Twitter to its campaign website.
#RefreshinglyHonest Not every bottle is perfect on the outside 
And even soliciting Influencers like Olivia Jensen on YouTube
Drum roll please…..
And the Nominee for the 8th Annual Shorty Award in the Food & Beverage category goes to Honest Tea
The evolution of  the social experiment by addition of  social media components has simply allowed Honest Tea's campaign to brew to perfection and measuring some honest to goodness results.
UPDATE…..
 Austin Graff, Social Media Manager at Honest Tea shares his thoughts on about this brilliant campaign,
Hi Shelina,

Great blog! We wanted to hit every major social media platform to show up where all of our target was playing. We tied an engagement metric to the campaign because engagement is how you can tell if content is resonating with the consumer.

Hope this helps and let me know if you need anything else from me.
Austin Graff Social Media Manager |  HONEST TEA, Inc. Refreshingly HONEST® since 1998.
Join us: Facebook | Twitter | honesttea.com
We're on a mission! Read about the journey in our 2014 Mission Report
About Honest Tea
Founded in 1998, Bethesda, MD based company Honest Tea is the nation's top-selling organic bottled tea company specializing in lower calorie beverages that are 'just a tad' sweet. Honest Tea's product lines include: Honest Tea ready-to-drink bottled teas, Honest Ade and Honest Kids organic thirst quenchers. All varieties are USDA-certified organic and all tea varieties are Fair Trade Certified™. In addition to being named one of The Better World Shopping Guide's "Ten Best Companies on the Planet based on their overall social and environmental record," Honest Tea was also listed as one of PlanetGreen.com's "Top 7 Green Corporations of 2010," and was ranked by The Huffington Post as one of the leading "8 Revolutionary Socially Responsible Companies." Honest Tea was purchased by The Coca-Cola Company in March 2011 and operates as an independent business unit. For more information visit www.honesttea.com. [7]
Lessons for Others
By making an honest and genuine connection with your followers surely pays off and yields great dividends for your marketing efforts. These can be carried over year after year without diminishing your momentum.
Making correlations between all platforms used instead of reporting individually can provide a better picture for a company's ROI on Social Media investment.
Having a strategy and knowing what you want to accomplish can provide a clearer picture when measuring your social media metrics.
Organization: Honest Tea
Industry: Beverage Industry
Name of Organization Contact: Seth Goldman is president,TeaEO and Austin Graff Social Media Manager

Authored by: Shel
If you have concerns as to the accuracy of anything posted on this site, please send your concerns to Peter Carr, Program Director, Social Media for Business Performance.
---
References