Organization Name: Snapchat
Industry: Video Messaging Service
Web Reference: Snapchat
Contact: Chadi Kandil, Marketing Professor at Centennial College
Snapchat is a free video and picture messaging app used with a cellphone. Unlike other messaging apps, the pictures and videos sent to friends vanish after a set amount of time. The major demographic that Snapchat appeals to are teens. This demographic considers Snapchat as being different from other major social media platforms such as Facebook since it's quick and easy, they know who exactly is watching, and there's no social pressure of likes and comments from other people.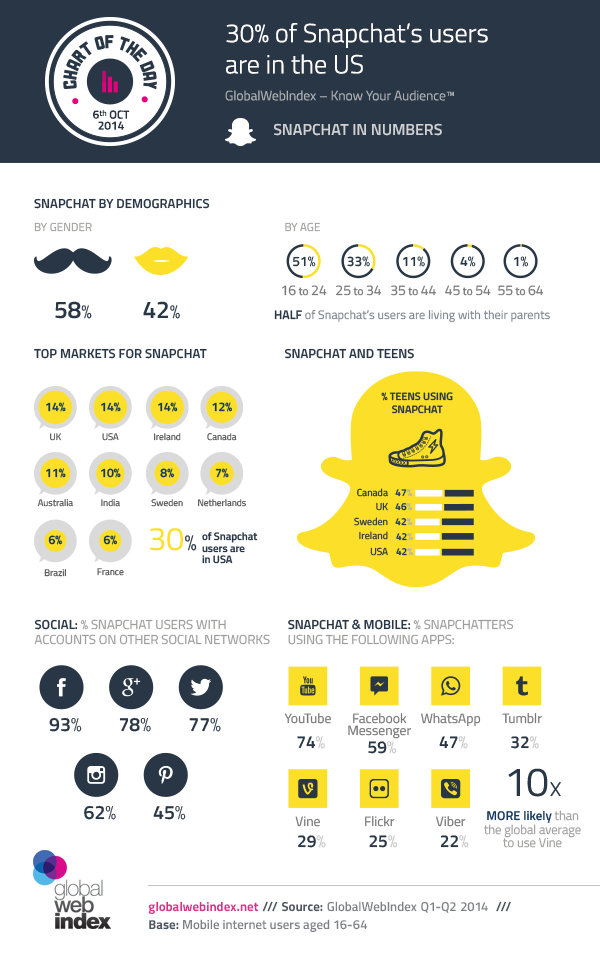 From the infographic above, 51% of Snapchat users are made up of the 16 to 24 age group, while 33% of users are from the 25 to 34 age group. With such a concise demographic of users on Snapchat, companies are looking for ways to target this group on the mobile app. So how exactly can marketers use Snapchat to market towards this demographic?
Enter H&M Poland's first Snapchat campaign. The company wanted a new way to reach out to its target youth audience, who were rapidly moving to mobile as their medium of choice. To celebrate the 2014 H&M loves music collection, the clothing store partnered with exclusive party organizer Boiler Room.
This partnership marked the first time Boiler Room had been to Poland and H&M wanted to highlight the partnership and make sure people knew about its involvement in the event.
That's when the idea for the 'Urban Chase' campaign was born – H&M had hidden a number of tickets for two sold out Boiler Room parties in their stores in Warsaw and Krakow.
H&M asked people to follow their Snapchat hints and messages to find the tickets, thus creating Poland's very first Snapchat Urban Chase.
This simple case study showcases social media campaigns could be conducted in the future by combining existing social media platforms with real world experiences for customers.
According to Chadi Kandil, a marketing professor at Centennial College, technology has a huge impact on how current and future users use social media. In my interview with Kandil, he describes how the younger generation growing up today, have always used instant messaging as a means to communicate. So when Snapchat launched, it made sense for that demographic to move on to that platform, where as the older generation has a harder time to multitask and to keep up with all of the new social media platforms coming out. Hence, older users fall back to more familiar platforms like Facebook and continue to not adopt newer technology as fast or even understand the appeal for something like Snapchat.
Kandil also mentions that with a younger demographic, it is easier for them to move from one social media platform to another since they are comfortable living in today's social media age.
In regards to marketing to a specific demographic and keeping up with technology trends, Kandil mentions that "the rules of engagement for social media since the beginning haven't changed. Companies need to… understand that as soon as they step into social, the power is in the hands of the consumers." In other words, even in the future of social media, content will still be driven by consumers and they will continue to have power over companies in terms of the message. The technology might change, but the way social media is controlled will not.
Lessons for others:
Social media is here to stay. Companies need to understand that being on social media should relate back to a business objective and is used as a means to connect and engage with consumers. This concept will not change, even as different social media platforms or technologies innovate. In the future, the means which the message is delivered to consumers might be different, but the overall importance for companies to provide a meaningful social media experience will still be the same.
And while different social media platforms do cater to certain demographics more, it is important to make sure that companies focus on sticking to the fundamentals of social media by understanding how consumers want to interact with their favourite companies or brands. As consumers grow up being accustomed to social media messages being put out by companies, social media marketers must find new innovative ways to capture the attention of consumers in order to stand out.
Submitted By: Benjamin Wong
To contact the author of this entry please email at: bmfwong@gmail.com

If you have concerns as to the accuracy of anything posted on this site please send your concerns to Peter Carr, Programme Director, Social Media for Business Performance.